【English】 This Is the Happiness and Peace of Mind Committee 【Shiroko】 +mp3
►mp3: ◄
Facebook:
Twitter: @XxShirokoxX
Tumblr: wtfshiroko.tumblr.com

•*´¨`*•.¸¸.•*´¨`*•.¸¸.•*´¨`*•.¸¸.•*´¨`*•.¸¸.•

Wow, I've been saying I'd do this song for how long...?? It took me forever to actually get the ball rolling on it because this song was super intimidating to me to try to do in English... but here I am. It was interesting writing translyrics for this because it was like writing a script revolving around a pre-existing concept and loose cadance?? I dunno, it was tricky, especially that one fricking part in the middle. You know which part I am talking about. I know you know. Anyhow, I hope you enjoy it!! Please feel free to use my lyrics, just credit me and video response koodahsigh. Also for anyone wondering about who the hell Ondine is, here you go:

OK So about Undine/Ondine. This creature/person is a water elemental/water nymph of Greek and German legend. They supposedly sing with a beautiful voice and seek to marry a human to gain a soul. However in some stories, like the unfortunate German knight mentioned in the song, those who are unfaithful to an undine are cursed with death. While it's a bit abstract here, you can see how this fits with the song. The Ondine/Miku character is singing with her beautiful voice (spreading the message of "happiness") and if she is not obeyed and her subjects do not remain faithful, well, she'll kill them. Seems simple enough :) (More info: )

(From /watch?v=WWIjvPuY2jo)

•*´¨`*•.¸¸.•*´¨`*•.¸¸.•*´¨`*•.¸¸.•*´¨`*•.¸¸.•

♫ Lyrics ♫



Boop boop boop boop boop.

•*´¨`*•.¸¸.•*´¨`*•.¸¸.•*´¨`*•.¸¸.•*´¨`*•.¸¸.•

♫ CREDITS ♫

Song: こちら、幸福安心委員会です。
Lyrics: Tory Hitsuji
Producer: Utata-P
Translyrics, Vocals, Mix, Sub: Shiroko

"Copyright Disclaimer Under Section 107 of the Copyright Act 1976, allowance is made for "fair use" for purposes such as criticism, comment, news reporting, teaching, scholarship, and research. Fair use is a use permitted by copyright statute that might otherwise be infringing. Non-profit, educational or personal use tips the balance in favor of fair use."

•*´¨`*•.¸¸.•*´¨`*•.¸¸.•*´¨`*•.¸¸.•*´¨`*•.¸¸.•

THANK YOU FOR LISTENING!!
---
YouTube Images
All images from the biggest to the smallest
Click the right mouse button and select "Save Image As ..." to download the original image to your computer.
---
Image URLs:
Direct link to image with resolution: 1280x720
---
Direct link to image with resolution: 640x480
---
Direct link to image with resolution: 480x360
---
Direct link to image with resolution: 320x180
---
Direct link to image with resolution: 120x90
---
A few frames from the video and URLs to each: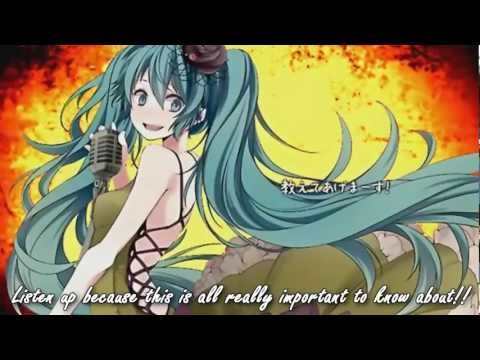 ---
Title and Description
Description and title of the video.
If the fields are empty, then there is no description for the video.
---
Description of the video.
---
---