THANOS vs AVENGERS vs IRON SPIDER-MAN, HULK BUSTER , BLACK PANTHER, THE FLASH, COSMIC SPIDER-MAN
Thanos fights The Hulk Buster, Flash, Black Panther, Luke Cage, Cosmic Spiderman, Ironman Hulk buster, and the Iron Spider from Spiderman: HOMECOMING and Avenger's Infinity War.
These are some of my favorite superheroes battling it out against each another.
Enjoy :).

#thanos #ironspider #avengersinfinitywar #blackpanther #lukecage #ironman #cosmicspiderman

Follow me on Instagram


IRON SPIDER-MAN texture by AditRaidaa on Deviantart


The COSMIC SPIDERMAN, BLACK PANTHER, IRON SPIDER, LUKE CAGE, and THANOS representing the world of Marvel, and The Flash representing the world of DC.
Both worlds have well known superheroes like Black Panther, Ironman, Miles Morales, Captain America, The Flash, Wonder woman, Captain Marvel, Spiderman, War Machine,
The Hulk, Cyborg, Green Lantern, Blue Beetle, Thor, Archangel, The Vulture, Gigantess, Batman, Beast, Starfire, and, Ant-man. Just to name a few of my favorites.
But this video is about Spider-Man PS4 version vs The Flash vs Miles Morales vs Gorilla Grodd vs Sub-Zero from Mortal Kombat X
It took me a while to make this video. I hope you enjoy watching it as much as I enjoyed making it.
There will be more of these types of videos to come.
---
YouTube Images
All images from the biggest to the smallest
Click the right mouse button and select "Save Image As ..." to download the original image to your computer.
---
Image URLs:
Direct link to image with resolution: 1280x720
---
Direct link to image with resolution: 640x480
---
Direct link to image with resolution: 480x360
---
Direct link to image with resolution: 320x180
---
Direct link to image with resolution: 120x90
---
A few frames from the video and URLs to each: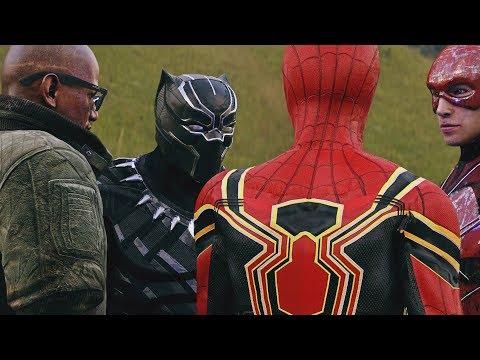 ---
Title and Description
Description and title of the video.
If the fields are empty, then there is no description for the video.
---
Description of the video.
---
---