Ronaldinho: 14 Ridiculous Tricks That No One Expected
Facebook:

Subscribe for more amazing videos
For Real Madrid News visit our Website:

like facebook page:
Real Madrid C.F.OFFICAL FAN PAGE ALBANIA


In this video:

14. Dancing Before Scoring goal vs Chelsea
13. Ronaldinho No Look Assists ( passes )
12. Ronaldinho goal that would have been vs bilbao
11. Ronaldinho Back Assist vs Osasuna
10. Ronaldinho Juggling With Closed Eyes
9. Ronaldinho Free Kick vs England
8. Ronaldinho Triple Sombrero vs Bilbao
7. Ronaldinho Debut Goal vs Sevilla
6. Ronaldinho Playing With The Crossbar
5. Ronaldinho Bicycle Kick Goal vs Villareal
4. Ronaldinho Controlling The Ball With His Back
3. Ronaldinho Under The Wall Free Kicks
2. Ronaldinho Smart Water Bottle Trick
1. Ronaldinho Stealing The Ball From Goalkeepers

"Copyright Disclaimer Under Section 107 of the Copyright Act 1976, allowance is made for "fair use" for purposes such as criticism, comment, news reporting, teaching, scholarship, and research. Fair use is a use permitted by copyright statute that might otherwise be infringing. Non-profit, educational or personal use tips the balance in favor of fair use."
---
YouTube Images
All images from the biggest to the smallest
Click the right mouse button and select "Save Image As ..." to download the original image to your computer.
---
Image URLs:
Direct link to image with resolution: 1280x720
---
Direct link to image with resolution: 640x480
---
Direct link to image with resolution: 480x360
---
Direct link to image with resolution: 320x180
---
Direct link to image with resolution: 120x90
---
A few frames from the video and URLs to each: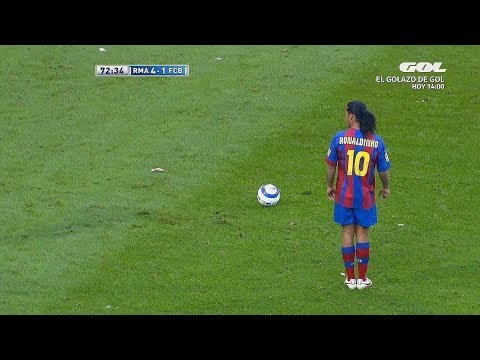 ---
Title and Description
Description and title of the video.
If the fields are empty, then there is no description for the video.
---
Description of the video.
---
---