Every USA Retail PlayStation Game! All 1284 NTSC Titles (GRTV Project #5)
Accept no substitutions! This video was produced with real games on original PlayStation hardware. All 1284 USA NTSC PSX Games in one video! Tons of amazing cuts and hidden sequences, be sure to watch it all!

16:9 Version Above, 4:3 Ratio Mode is here:

Let the video buffer! It's 720p and 2.2 hours long. Theater View offers clearest viewing. :D

Jason and Game-Rave.com present our final project for the 20th Anniversary - every US Retail playstation game in one glorious video...at 5 seconds a game. Not just random clips, either!

There are:
* 4th Wall jokes
* Every 2015 NHL, NBA, NFL, and MLB Team are represented - Find them all!
* All 16 original Street Fighter Characters - Find them all!
* Linked Segments
* Stories to be told (MLB Series Grand Slam, Bottom of the Ninth's Triple Play Attempt...)
* Fan favorite moments

...and more. Can you uncover all of them? :D

10 Months was never so much fun.

Subscribe and Join the Fun!

Support GameRaveTV and Get Cool Stuff





Email: gameravetv(at)gmail.com

Download GameRaveTV's Opening / Ending Credits at:


© 2014 Game-Rave.com

All Original Content © Jason Dvorak

Music performed by Ken "General Funkatron" DeJong and used with permission. Any and all footage not created by Jason is the Copyright and Trademark of their respective owners. No infringement is intended and any content is used in parody / journalistic intentions.
---
YouTube Images
All images from the biggest to the smallest
Click the right mouse button and select "Save Image As ..." to download the original image to your computer.
---
Image URLs:
Direct link to image with resolution: 1280x720
---
Direct link to image with resolution: 640x480
---
Direct link to image with resolution: 480x360
---
Direct link to image with resolution: 320x180
---
Direct link to image with resolution: 120x90
---
A few frames from the video and URLs to each: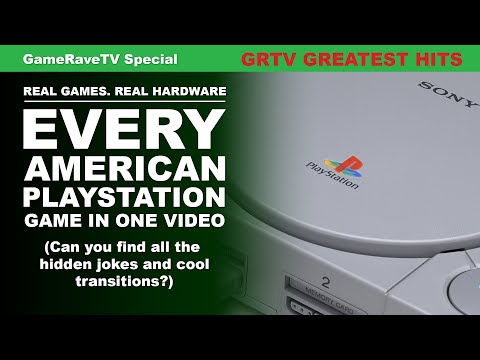 ---
Title and Description
Description and title of the video.
If the fields are empty, then there is no description for the video.
---
Description of the video.
---
---