Marble Futomaki Sushi Roll Recipe - How to Make Sushi
Daikon Wrapped Futo Maki Sushi Roll Recipe, see more sushi recipes on my website here:

Simple katsuramuki tutorial:

This video shows how to make a very beautiful sushi roll wrapped in a thin sheet of kasuramuki daikon and filled with many delicious ingredients.

Ingredients used in this video recipe:

- 15g Cooked and seasoned sushi rice
- 10g Sashimi grade salmon
- 1 Avocado
- 1 Carrot
- Wasabi
- 1 Radish
- 2 Asparagus
- 1 Daikon

hope you enjoyed this sushi recipe :)

-----------------------------------------------
All Recipe Videos:
This YouTube Food channel is all about making sushi recipes and trying to teach great food recipes.

What to support this channel? you can do the following:
1) Share this video on Facebook, Google + or Twitter
2) like this video
3) Embed this video on a blog or website or just link to it from somewhere.
Thank you for your support :)

*SOCIAL MEDIA :*
Facebook:
InstaGram: @MakeSushi1 or use the hashtag #makesushi1

Make Sushi App:

Music Royalty Free Music:
Music from audionetwork.com (paid for license)

cameras used to film this:
2x Canon 5D m4:
sometimes a GoPro Hero5:

Produced by Chef: Davy Devaux

link to this video for sharing:
last week's video:

I use affiliate links to share products I like, find useful and feel that readers will find helpful. These links can help me generate income to support the costs associated with making video tutorials.
---
YouTube Images
All images from the biggest to the smallest
Click the right mouse button and select "Save Image As ..." to download the original image to your computer.
---
Image URLs:
Direct link to image with resolution: 1280x720
---
Direct link to image with resolution: 640x480
---
Direct link to image with resolution: 480x360
---
Direct link to image with resolution: 320x180
---
Direct link to image with resolution: 120x90
---
A few frames from the video and URLs to each: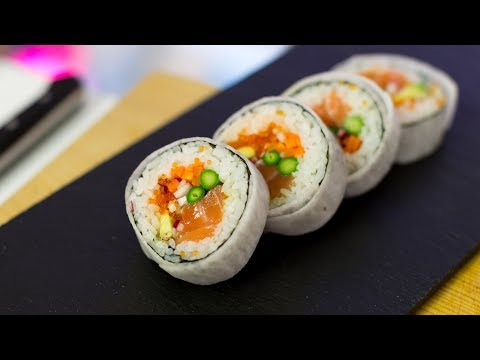 ---
Title and Description
Description and title of the video.
If the fields are empty, then there is no description for the video.
---
Description of the video.
---
---