Mega Drive Longplay [331] Quack Shot Starring Donald Duck


Played by: xRavenXP

Longplay of game Quackshot - Starring Donald Duck for Mega Drive/Genesis.

One day Donald was stirring in the ancient books of the library of Uncle Scrooge, while the old man took a nap. He eventually found a book that talked about a lost treasure of a King Garuzia, that before you go to the beyond, hid all his wealth in a mysterious place. Fortunately for Donald inside the book he finds a map that seems to indicate the location where the fortune of the King of Garuzia is hidden! This was the perfect opportunity to Donald get as rich as Scrooge! As it was in a total state of euphoria, Donald did not notice that one of the henchmen of the infamous Pete watched it all, and of course, the wrongdoer would not let your boss know without this coveted treasure.

Donald joins his three nephews (Huey, Dewey and Louie), and all depart on a small plane to seek treasure, even with Daisy warning that they would be late for dinner. Before leaving, Donald promises his girlfriend that she is preparing for a very special surprise. With the following their destination tickets, Pete and his band observe everything and plan a way to prevent the duck reaches the coveted treasure, while they can possess it in place of Donald and and his nephews.

The game follows a "metroidvania" style and while you can choose the player reaches a point where it has to go back to another stage to get specific items. Donald Duck, in a clear homage to Indiana Jones goes on an adventure exploring the style and uses a gun that can shoot plungers, bubbles and popcorn. Various Disney characters are present in this classic. A good Disney game, deserved a remake in HD like Ducktales gained a Ducktales Remastered.
---
Immagini di YouTube
Tutte le immagini dal più grande al più piccolo
Fare clic con il pulsante destro del mouse e selezionare "Salva immagine con nome..." per scaricare l'immagine originale sul computer.
---
URL di immagini:
Link diretto all'immagine con risoluzione: 640x480
---
Link diretto all'immagine con risoluzione: 480x360
---
Link diretto all'immagine con risoluzione: 320x180
---
Link diretto all'immagine con risoluzione: 120x90
---
A pochi fotogrammi dal video e URL a ciascuna: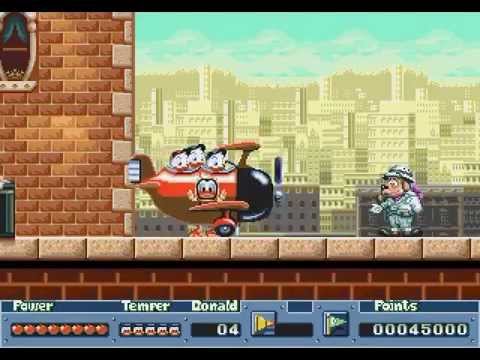 ---
Titolo e Descrizione
Descrizione e titolo del video.
Se i campi sono vuoti, non esiste alcuna descrizione per il video.
---
---
---