Malta - 1942 (1942)
Malta.



Close up shot of air raid alert flag being hauled up mast. Various shots of the British troops riding in horse drawn cabs through the streets, people walking along streets, cars, bicycles etc. It all looks peaceful. Various shots of Maltese workers leaving docks after work. Group of British sailors splicing steel hawser. Air raid count being changed on front of A.R.P. ( Air Raid Precautions ) hut to 1774. Maltese people walking quite slowly towards shelters. Some bomb damage seen on buildings. It seems that the air raids do not create much panic.
FILM ID:1691.08

A VIDEO FROM BRITISH PATHÉ. EXPLORE OUR ONLINE CHANNEL, BRITISH PATHÉ TV. IT'S FULL OF GREAT DOCUMENTARIES, FASCINATING INTERVIEWS, AND CLASSIC MOVIES.

FOR LICENSING ENQUIRIES VISIT

British Pathé also represents the Reuters historical collection, which includes more than 120,000 items from the news agencies Gaumont Graphic (1910-1932), Empire News Bulletin (1926-1930), British Paramount (1931-1957), and Gaumont British (1934-1959), as well as Visnews content from 1957 to the end of 1979. All footage can be viewed on the British Pathé website.
---
Immagini di YouTube
Tutte le immagini dal più grande al più piccolo
Fare clic con il pulsante destro del mouse e selezionare "Salva immagine con nome..." per scaricare l'immagine originale sul computer.
---
URL di immagini:
Link diretto all'immagine con risoluzione: 640x480
---
Link diretto all'immagine con risoluzione: 480x360
---
Link diretto all'immagine con risoluzione: 320x180
---
Link diretto all'immagine con risoluzione: 120x90
---
A pochi fotogrammi dal video e URL a ciascuna: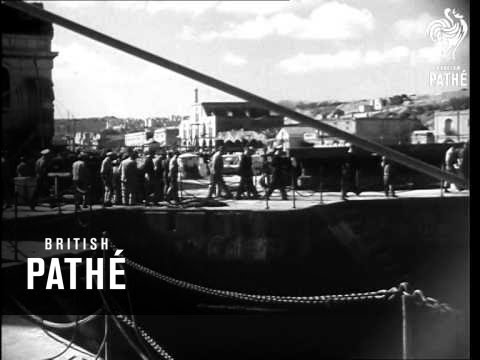 ---
Titolo e Descrizione
Descrizione e titolo del video.
Se i campi sono vuoti, non esiste alcuna descrizione per il video.
---
---
---