MARS 2020 - Albino Alien Spotted ? ArtAlienTV
YouTube Exclusive " What looks like an albino alien entity on Mars peering from behind a rock. Quite small, but facial features are quite clear. Could this live underground in the area as some have suggested ?
Spotted by fellow researcher Sarah Runcie.
Gale Crater Curiosity Rover image from Sol 1450
Hysteria free analysis from ArtAlienTV. One of the most plagiarized channels on YouTube.
Please subscribe to my New backup channel -
Space Detective 1 - here:
An open mind is required when viewing images from other planets. One day our very survival may depend on it.
My image enhancements are always shown next to the official raw images to show that they are well within the bounds of sensible inquiry and analysis. But using my enhanced images without my permission will result in Google copyright action.
To Donate with PAYPAL and help this research.
Send payments to:
[email protected]
Much appreciated however small.
First found by Sarah Runcie on 23rd Jan 2020 and
published on YouTube first by ArtAlienTV - 31st Jan 2020.
Sarahs Post Here:
GIGAPAN CREDIT: Keith Laney
Image Credit: NASA/JPL-Caltech/MSSS
✔ NASA image link:
Articles Here:
ArtAlienTV - Arguably the best collection of Mars and Moon buildings, statues, ruins & objects on the net. Art, architecture, wreckage, UFO's and vehicles shown in recent Rover & satellite space images. Detailed statues, skeletal remains and freeze dried mummies in eroded burial sites In Gale Crater. 100's of fine examples. Pyramids, Towers, Domes, Bunkers, City Ruins. Intelligent structures on Mars, Moon and Antarctica.
Don't be fooled by the official dogma you have been lead to believe. Trust your eyes, not the lies !
---
YouTube ongle de pouce
Toutes les images du plus grand au plus petit
Cliquez avec le bouton droit de la souris et sélectionnez "Enregistrer l'image sous..." pour télécharger l'image d'origine sur votre ordinateur.
---
URL d'image:
Lien direct vers l'image avec résolution: 1280x720
---
Lien direct vers l'image avec résolution: 640x480
---
Lien direct vers l'image avec résolution: 480x360
---
Lien direct vers l'image avec résolution: 320x180
---
Lien direct vers l'image avec résolution: 120x90
---
Quelques images de la vidéo et des URL à chaque: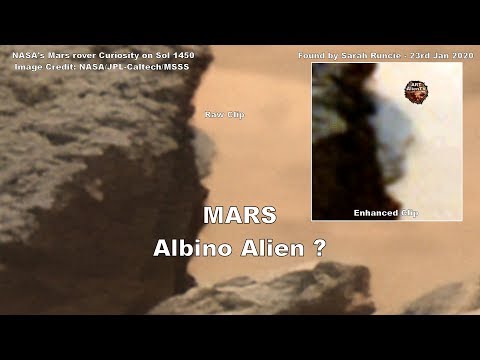 ---
Titre et description
Description et titre de la vidéo.
Si les champs sont vides, il n'y a pas de description de la vidéo.
---
---
---