6 Tips on How to Recognize Fake Gadgets
How to spot fake gadgets? How do you differentiate between real and fake gadgets?
Top brands have lots of copycats, and sometimes fakes are made so well you're almost unable to recognize them. To avoid wasting money on nonsense, you should examine the gadgets carefully before buying them.

If a salesman pushes you to make a quick purchase, take your time and pay attention to the smallest details. We've got six useful tips to help you recognize fake gadgets.

TIMESTAMPS
Check the Packaging. 0:30
Look Inside the User Manual. 1:06
Pay Attention to the Material. 1:25
Take a Look at the Fonts. 1:49
Check the Charger. 2:15
Check Wires and Plugs. 2:46

SUMMARY
Check the Packaging.
Before buying a new gadget, take a close look at its package, paying attention to the print quality. The font should be legible and consistent everywhere. Nothing should be loose inside.

Look Inside the User Manual.
All important information about the device must be there in the language of the country of purchase. If it's written in some other language and you can't read it, then it's either a smuggled device or a brand copycat.

Pay Attention to the Material.
The plastic covering must be smooth, without seams or other imperfections. Take a closer look at the gadget to uncover cheap plastic with matte shades and irregular surfaces.

Take a Look at the Fonts.
All fonts and symbols on the device must be smooth, readable, and durable. It's often the case with fakes that they lack the name of the manufacturer or they have it somehow wrong.

Check the Charger.
The charger should be adapted for use in your country. Remember, brands are responsible for your safety when using their gadgets. That's why originals always have neat metal tips and quality insulation.

Check Wires and Plugs.
In the original, a plugged-in cable will sit firmly and evenly, while in a fake you'll see incorrect angles and loose parts.

Have you ever bought any fake gadgets? Do you know other ways to recognize them? Share your experience with us in the comments below!

Subscribe to Bright Side :

----------------------------------------------------------------------------------------
Our Social Media:

Facebook:
Instagram:

5-Minute Crafts Youtube:

----------------------------------------------------------------------------------------
For more videos and articles visit:

---
Obrázky YouTube
Všechny obrázky od největších po nejmenší
Klepněte pravým tlačítkem myši a vyberte "Uložit obrázek jako...", chcete-li stáhnout původní obrázek do počítače.
---
Adresy URL obrázků:
Přímý odkaz na obrázek s rozlišením: 1280x720
---
Přímý odkaz na obrázek s rozlišením: 640x480
---
Přímý odkaz na obrázek s rozlišením: 480x360
---
Přímý odkaz na obrázek s rozlišením: 320x180
---
Přímý odkaz na obrázek s rozlišením: 120x90
---
Několik snímků z videa a adres URL ke každému: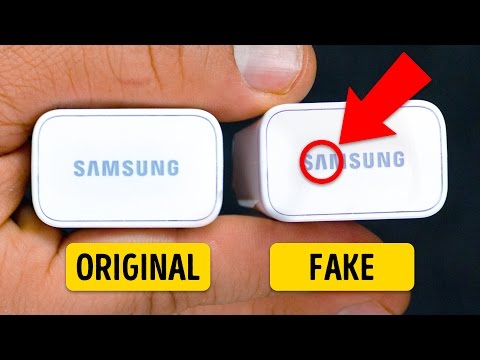 ---
Název a popis
Popis a název videa.
Pokud jsou pole prázdná, neexistuje popis videa.
---
---
---