Tenna Frederiksen - Ah, fors' e lui "La Traviata" - 1913
The Danish soprano Tenna Frederiksen (1885-1954) was the leading soprano at The Royal Danish Opera for more than 30 years.

She made her debut in April 1906, as Elsa in Wagner's "Lohengrin" - and over the next 33 years she was featured particularly in Verdi's and Puccini's operas in Copenhagen. She rarely performed outside Denmark, but was tremendously popular here. In 1921 she played the part as "Marie Antoinette" in Carl Th. Dreyer's movie "Blade af Satans bog" (Leaves out of the book of Satan).

After her retirement from the theatre in 1939 she continued to do recitals under the name Tenna Kraft up to her death in 1954. Her recording debut took place in 1908, and she made her last recording session in 1951.

This recording is sung in Danish.
---
Obrázky YouTube
Všechny obrázky od největších po nejmenší
Klepněte pravým tlačítkem myši a vyberte "Uložit obrázek jako...", chcete-li stáhnout původní obrázek do počítače.
---
Adresy URL obrázků:
Přímý odkaz na obrázek s rozlišením: 640x480
---
Přímý odkaz na obrázek s rozlišením: 480x360
---
Přímý odkaz na obrázek s rozlišením: 320x180
---
Přímý odkaz na obrázek s rozlišením: 120x90
---
Několik snímků z videa a adres URL ke každému: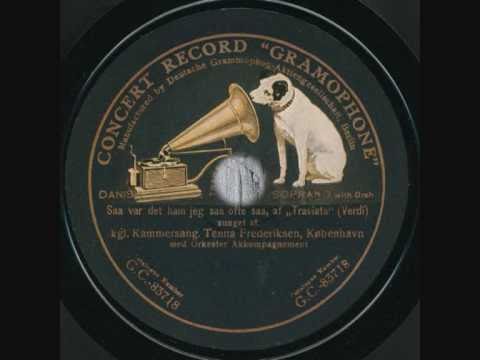 ---
Název a popis
Popis a název videa.
Pokud jsou pole prázdná, neexistuje popis videa.
---
---
---