FALLOUT 76: THE JOURNEY BEGINS
Fallout 76: The Journey Begins! Today I take you to West Virginia, where Fallout 76 takes place. The upcoming multiplayer/online Fallout is going to be epic, and I cannot wait to share the journey with you all! We visit locations from the game, tour a bunker, meet Vault Boy, and inch ever closer to A TON OF FALLOUT 76 GAMEPLAY AND CONTENT! I had so much fun at this event, and I cannot wait to share EVERYTHING with you super soon. Hope you're as pumped as I am! Let me know what YOU think of Fallout 76 and this epic event in the comments down below!

Follow Me on Twitter:
Follow Me on Instagram:
Subscribe to SwitchForce:


Fallout 76 will be Bethesda Game Studios' first online multiplayer game. Players may play individually or with a party of up to three others. All the servers for the game will be dedicated, with the player automatically allocated to one of them. While the game is expected to launch with public servers only, game director Todd Howard revealed plans for private servers to be introduced some time after the game's launch. These private servers will allow players to invite friends to play in order to prevent undesirable aspects of player versus player gameplay such as griefing from affecting an individual player's experience of the game. Howard described the delay as being necessary to allow Bethesda time to assure the stability of public servers. Elements of previous Fallout games will be present and modified to work with the real-time game. The V.A.T.S. system—a mechanic first introduced in Fallout 3 that allows players to pause the game to target specific locations on an enemy's body to attack—will be used in Fallout 76 as a real-time system, though it will still allow players to specify targets on an enemy's body.

The game will feature an open world four times the size of that of Fallout 4. The game world is called "Appalachia" and is a representation of West Virginia. It features recreations of real locations in the region, including the West Virginia State Capitol, The Greenbrier, Woodburn Circle, New River Gorge Bridge, and Camden Park. The game will also feature numerous new mutated monsters, several of which—such as the Mothman and the Flatwoods monster—were inspired by West Virginian folklore.

The game will include revisions to the SPECIAL progression system. Character attributes fall into one of seven categories: strength, perception, endurance, charisma, intelligence, agility and luck. As the player levels up, they will be able to spend skill points to boost their attributes on a scale of one to fifteen. Players will be able to choose perks, or passive abilities that offer gameplay bonuses. These perks fall into each of the SPECIAL categories and take the form of trading cards. Each card has a value and the player can adopt perks equal to their respective value; for example, if the player has a strength rating of five, then they may equip strength perks worth five points. The player can merge similar cards together to create more powerful—albeit more expensive—perks. The system is designed to encourage the player to recognise the situation they are in and choose perks that aid them rather than passively selecting them and having them for the duration of the game.

Fallout 76 will not feature any human non-player characters (NPCs) as all surviving humans will be other players.[ This required Bethesda to change their approach to storytelling as previous games in the series relied on NPCs to assign quests, engage the player in dialog and advance the overall narrative. Fallout 76 will instead use a combination of NPCs in the form of robots, recordings such as collectible holotapes, terminals throughout the game world, and environmental storytelling where the player uncovers fragments of a narrative by exploring locations that they then piece together themselves. Each of these elements had previously been used in the series, often to provide backstory for characters and the world of the game whilst remaining separate from the main narrative. According to Howard, this system allows Bethesda to tell a story whilst giving players a greater ability to create their own narratives.

The game will expand on Fallout 4's settlements by allowing the player the ability to build bases at any location of the map. These creations will be assigned to the player's profile and will be removed from the game world when the player is offline to prevent progress from being lost.While other players will be able to attack player settlements while they are online, the game will preserve player creations in some form to prevent players from having to start over if their creations and progress are destroyed.
---
YouTube圖片
所有圖像從最大到最小
單擊鼠標右鍵並選擇 "保存圖像為..." 將原始圖像下載到您的計算機.
---
圖片網址:
直接鏈接到圖像與分辨率: 1280x720
---
直接鏈接到圖像與分辨率: 640x480
---
直接鏈接到圖像與分辨率: 480x360
---
直接鏈接到圖像與分辨率: 320x180
---
直接鏈接到圖像與分辨率: 120x90
---
從視頻和URL到每個的幾幀: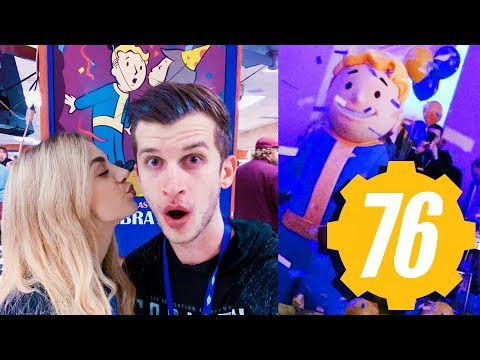 ---
標題和說明
視頻的說明和標題。
如果字段為空,則視頻沒有描述。
---
---
---